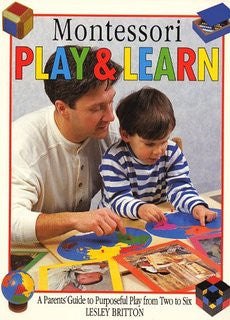 JACK Montessori Materials
Montessori - Play and Learn
We all want the best possible starts in life for our children, and one of the best possible starts in life, educationally, is the "method" pioneered by Maria Montessori and taught successfully today throughout the world.
Now, Lesley Britton, the leading Montessori practitioner in England for more than twenty years, will show parents how to bring Montessori home. If you would like to facilitate the development of your child's unique personality, make it possible for him to develop to his full intellectual capacity, and help him become socially and emotionally well adjusted, then this is the book for you.
Montessori Play and Learn is packed with ideas, activities, and games that can fit into your normal routine and help supplement preschool learning for your child. For planning your home, introducing your child to the supermarket or the neighbourhood, and helping him discover other people and cultures, this book provides valuable tips and insights that help parents and children grow and learn together.
-- Create hundreds of learning opportunities from everyday life
-- Learn dozens of games and activities to help prepare children for mathematics, reading, science, and writing
-- Make your home environment as stimulating for your child as the best Montessori preschool.
---
Share this Product
---
More from this collection